When you're job searching, it's natural to ask for advice, perhaps in the form of the infamous 'coffee chat'. This instinct is correct – 85% of jobs come through networking (NOT job postings)– so your chances of landing a job increase exponentially with each person you meet and impress with your qualifications, motivation, and clarity about your next step.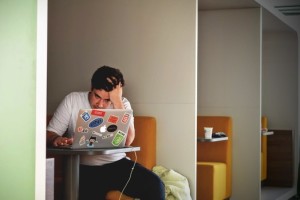 People have an innate drive to help other people, and we love to feel like experts. This is great news, because you're likely to get a lot of input when you ask. However, if you've ever gathered advice before, you know that the opinions you'll get are likely to range as broadly as the coffee drink options at Starbucks. The challenge, then, is often not getting advice to inform your transition, but sifting through conflicting opinions. If you take everyone's advice, you'll never get anything done.
"Experts are great at telling you what you shouldn't do, but they have no idea what you should do,"  advised the brilliant entrepreneur Manoj Bhargava, Founder of Five Hour Energy, on Guy Raz's fabulous podcast, "How I Built This". This is particularly true in today's rapidly changing job market, where 85% of the jobs in 2030 don't exist yet, and the average life of a company has decreased from 67 to 15 years. Experts have to adapt just like the rest of us to this dynamic context. It's important to learn from their insights and mistakes, but as Bhargava warns, don't expect them to have all the answers.
Whether you ask or not, people are inevitably going to make suggestions. And they will not all line up. So how do you filter all of the cautionary tales, suggestions, and recommended events, activities, and introductions that you'll hear, into a cogent plan of action?
1. Listen carefully
When someone is giving you advice – particularly if you asked them to! – listen up. Take notes, ideally on paper not your phone, and use your body language to show that you're giving them your full attention.  Resist the temptation to talk back too much, to counter their suggestions, or justify all the things you're already doing. The best use of your limited time with any advisor is listening carefully and capturing their ideas (while also making them feel like an expert – remember?).
Like this Article ?  Share It !    You now can easily enjoy/follow/share Today our Award Winning Articles/Blogs with Now Over 2.5 Million Growing  Participates Worldwide in our various Social Media formats below:
FSC LinkedIn Network: (Over 16K+ Members & Growing !)  www.linkedin.com/in/fscnetwork
Facebook: (over 12K)   http://www.facebook.com/pages/First-Sun-Consulting-LLC-Outplacement-Services/213542315355343?sk=wall
Google+: (over 800K) https://plus.google.com/115673713231115398101/posts?hl=en
Twitter: Follow us @ firstsunllc
What Skill Sets do You have to be 'Sharpened' ?
Continue of article:
2. Understand the source
Remember that even the wisest experts are individuals, informed only by their experience of the world. Each person's experience is specific to that person's background, demographics, personality, and myriad other factors that shape their unique path. So as you listen to their advice, and understand how it applies to your case, think carefully about that unique path. Where are they coming from? What are their strengths and assets? Where are they now? Is that even somewhere you want to be? In the words of a great advisor of mine, "Who's the 'they' in 'they said…'?"
Who's the 'they' in 'they said'? Always consider the source of expert advice! HT @Samira_Salman via @nelldd #Forbes
3. Notice trends
Keep careful track of your conversations, whether formal coffee chats, or quick insightful exchanges at a cocktail party. Highlight one or two take-aways from each conversation, and compile those on a single document. (Evernote is a perfect tool for tracking these notes. Use the Table of Contents feature to build an archive.) As you gather advice, trends will start to emerge. Perhaps everyone who's known you for a long time suggests that it might be time to go back to grad school. Or all of your current or past co-workers agree it might be time to go it on your own. Maybe one organization comes up in the majority of your conversations as a great place for you to look for opportunities.
 While each conversation can often feel completely disconnected, with a different focus and direction, tracking them and reviewing periodically will reveal trends. Those trends are instructive – use the wisdom of the crowd.
4. Trust your gut
The most important feature of advice that you ultimately follow is that it matches your gut intuition. If you don't feel good about a certain next step or possible role or employer, there's no chance that you'll be able to succeed, much less thrive, there. While some things in life are not best governed by intuition – stock picking for your IRA, for example – any successful career path will be authentically yours.
5. Be grateful
No matter how much of someone's advice you use, or even believe, the cardinal rule is to be grateful. Show your gratitude early and often to the people who take the time and effort to share their insights with you.
One of the best ways to do this is to keep people up-to-date with your progress. If you have taken on some of their suggestions, let them know, and share the results. Some people use a mailing list (bcc'd, always!) to update all of their advisors at once. This can work but should be supplemented with individual thank you's and updates for the people who have been most helpful. Personal introductions deserve particularly generous appreciation, especially if they lead to an interview or a job. Handwritten thank you notes or small gifts are underused these days.
So let go of the fear that your head might explode from the conflicts in the advice you're getting. Listen carefully, understand the source, notice trends, trust your gut, and be grateful!
These insights come from my work with purpose-driven professionals and organizations through Inspiring Capital. If you want to hear more, I love leading conversations!
Forbes.com | October 25, 2017 | Nell Derick Debevoise ,  WOMEN@FORBES
https://www.firstsun.com/wp-content/uploads/2016/07/free-Man-on-Laptop-looking-for-job.jpeg
350
524
First Sun Team
https://www.firstsun.com/wp-content/uploads/2016/07/logo.jpg
First Sun Team
2017-10-25 16:06:19
2017-10-25 16:06:37
Your #Career : How To Filter "Expert" Advice When You're Job Searching..."Experts are great at telling you what you shouldn't do, but they have no idea what you should do,"