We've all been there. Actually, I'm there right now: I have more work than time. The balance is off and I'm in over my head. It's not a crisis (no one's life is in the hanging in the balance) but it is uncomfortable because I know better. Since I know the best practices for time management, why am I having so much trouble doing better?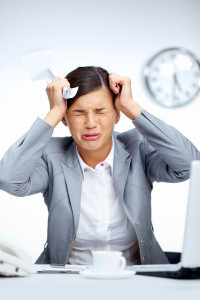 Because even knowing what you should be doing doesn't mean you actually do those things when you're off-track, stressed about a deadline, and unclear in your priorities. Left unchecked, the feeling of being overwhelmed can snowball into feelings of self-doubt, unworthiness, and a diminished sense of optimism about the future. Over time, these negative feelings about our inability to manage our time become patterns. These patterns can be deceiving and even lead us to make more extreme choices such as quit a job, break off a relationship, or drop out of public life for a while as a last ditch effort to regain control.
Good time management is both know-how and managing our emotional reactions during the day. Building an awareness of what you need in the moment will help you find a schedule that works for you.
Poor time management has two root causes. The first is a lack of knowledge. The second is the emotional reaction to the work you're doing (or are supposed to be doing). It's similar to eating healthy in that way: Some people lack the knowledge of how to eat better, healthier foods. Others know exactly what they should be eating, but make other choices because they have an emotional reaction that overrides what know they should be doing.
Most articles about improving time management mix and match solutions to these two different problems. Most of the audience already knows all of the tips and tricks. They just struggle with knee-jerk, emotional reactions to being overburdened.
Like this Article ?  Share It !    You now can easily enjoy/follow/share Today our Award Winning Articles/Blogs with Now Over 2.5 Million Growing  Participates Worldwide in our various Social Media formats below:
FSC LinkedIn Network: (Over 15K+ Members & Growing !)   www.linkedin.com/in/frankfsc/en
Facebook: (over 12K)   http://www.facebook.com/pages/First-Sun-Consulting-LLC-Outplacement-Services/213542315355343?sk=wall
educate/collaborate/network….Look forward to your Participation !
Continue of article:
If you have time management tips and tools that have worked for you in the past, you have the basic skills you need. If you still find yourself bouncing from one activity to another without making real progress on anything, try tackling time management by getting a handle on the emotional side of the work that's stressing or overburdening you. Here's how.
Review your project-specific goals. These should be written down somewhere. If not, you can do a quick refresh with a goal-setting framework. Grab that piece of paper or file and remind yourself of what you're aiming for.
Connect with a client or other beneficiary of your work. Getting too far away from the people you're working for erodes your drive. You need to talk to or see them daily or have a constant reminder that somebody's benefiting from your work.
Get grateful. A quick gratitude exercise can physically change your brain and doesn't have to be more complicated than simply listing three things you're thankful for in the moment. Repeating this little exercise daily (ideally in the morning) can help set you up for longer-term focus.
Block out more time for self-care. This might seem counterintuitive when you owe stuff to other people. However, you start to take back little moments in sneaky ways (another trip to the fridge or a quick check of social) when you don't feel like a priority in your own life. Put your shoes on and go for a walk, eat a meal without looking at a screen while you chew, or take 10 minutes to try meditating with the help of an app like Headspace.
Talk with a mentor or coach. Sometimes, we need an outside perspective to get back on track. Mentors and coaches are so effective because they can provide a fresh outlook on your priorities and where to get started.
Break tasks down into smaller pieces. Often, our "to do" list includes items of all different durations and levels of difficulty. It's no wonder, then, that we gravitate towards the quicker, easier items and put off the more time-consuming, bigger priority things. Take just one priority task and break it down into a handful of smaller, 15-minute tasks to gain some momentum.
Good time management is both know-how and managing our emotional reactions during the day. Building an awareness of what you need in the moment will help you find a schedule that works for you.
The opinions expressed here by Inc.com columnists are their own, not those of Inc.com.
PUBLISHED ON: AUG 25, 2016
http://www.firstsun.com/wp-content/uploads/2016/04/free-woman-angry.jpg
5616
3744
First Sun Team
http://www.firstsun.com/wp-content/uploads/2016/07/logo.jpg
First Sun Team
2016-10-21 15:28:35
2016-10-21 15:28:46
#Leadership : How to Make More Time for Yourself When You're in Over Your Head...Improving Time Management Means Getting Control of Our Emotional Reactions to Things at Work.