Everyone agrees that it's a smart practice to ask for feedback. Don't walk through life with blinders on. Show them that you're proactive. Assume that you always have room to grow.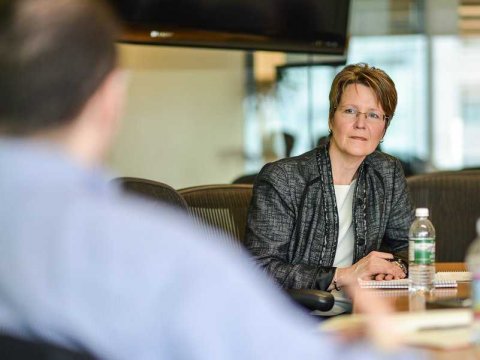 We await feedback holding out hope that if we did things perfectly, we will hear only glowing praise. And yet, for most people (even the brightest and most capable) this happens almost never.
But how do we actually get up the gumption to ask for criticism when deep down, we don't want to hear the answer in any shape or form? After all, you don't have to be having a brutal week to feel vulnerable to criticism. Many people already have a "glass-half-empty" picture of themselves—which makes hard feedback even easier to internalize…and therefore avoid. A biting appraisal stings because it highlights a weakness, but also because it usually clashes with the self-identity we've constructed.
First Sun Consulting, LLC- Outplacement/Executive Coaching Services,  is proud to provide one of our 'FSC Career Blog' article below.  Over 300 current articles like these are on our website in our FSC Career Blog section with new management trends, employment updates along with career branding techniques  .   Also note, we are excited to announce that FSC Career Blog was voted the 'most viewed' on  LinkedIn groups in 2013. 

Simply connect @  http://www.linkedin.com/in/frankfsc  , then click, 'Add Frank Link'  to your Network.
OR
Connect with us on Twitter @   firstsunllc
That simple.
Continue of article:
And yet, when we get in the practice of hearing—and then surviving—feedback, it loses some power. It becomes one data point worth attention, not a reason to stew for a week in wretched self loathing.
As you work to thicken your own skin, try on the four strategies below. In using them, you'll find that you're better at regulating you How to Have A Thicker Skin for Negative Feedback emotions and most important, you become more of an active participant in the feedback process.
1- Use "Compassionate Detachment": Therapists have long used compassionate detachment to empathize with clients, without taking on clients' emotions as their own. They do this by distancing themselves slightly from the outcome of a story, a behavior or a pattern. You can use this technique too.
By looking at feedback with curiosity, we see it for what it really is. Separate your extreme emotions from the feedback by telling yourself, "I can only see the feedback accurately if I quiet the noise." You'll be surprised how this technique can allow you to have further "a-ha" moments originating from the feedback.
2- Don't Isolate Yourself: Recently I facilitated a series of negotiating workshops for a large Fortune 50 client. When I asked participants about how they recovered from a failed negotiation, one participant noted that she went right to her car, had a long cry and then privately ruminated for 2 weeks about the failure. Yet another participant explained that she talked to some trusted advisors after her negotiation-gone-wrong, one of whom told her that rejections like this happened regularly and not to take it to heart.
Not surprisingly, that last participant was able to bounce back quickly from her perceived failure. Borrow from this example! When you get in the habit of processing hard moments with those more experienced than you, you give yourself the gift of support. In turn, your allies end up normalizing your experience.
3- Demote Your Inner Perfectionist: For some of us active and recovering perfectionists, we await feedback holding out hope that if we did things perfectly, we will hear only glowing praise. And yet, for most people (even the brightest and most capable) this happens almost never. I'd argue that perfectionism actually steers us away from the very hard-hitting feedback that's most instructive. Think about it.
When others get the sense that you're a perfectionist, it handicaps easy, open dialogue. A better approach? Thank your perfectionist for her concern, and then explain that progress is almost always made in a jagged, up and down trajectory—rarely is it perfectly linear.
4- Have A Go-To Mantra: Sometimes the right words can help open us up just enough to change our behavior. Think of a short phrase that challenges you to accept feedback but feels empowering and puts you in control. 
You might consider: "I'll stay open," "I'm stronger than my performance on one task" or "I tolerate and gain from tough feedback." Yet another mantra states, "I trust my own instincts about which feedback to act on." The reasons mantras work are that they strike a chord in us, are easy to remember and repeat, and quickly reinforce a needed message—usually at a deep level.
How do you toughen up when you want to solicit feedback but feel worried about the result? What would you advise against doing?
Selena Rezvani is a women's leadership speaker, workplace consultant, and author of Pushback: How Smart Women Ask–and Stand Up–for What They Want. Connect with her at nextgenwomen.comand @SelenaRezvani in Twitter.
Forbes.com  |  October 22, 2014  |  Work in Progresss
http://www.forbes.com/sites/work-in-progress/2014/10/22/how-to-have-a-thicker-skin-for-negative-feedback/