It was just an invitation to dinner with a bit of professional matchmaking thrown in. I wanted to introduce a client to an influencer who could make a major difference in her career. A day went by, then two. Still no answer. The rainmaker was just in town for a day, so I tried again. No reply. So I invited a different client and a productive connection was made.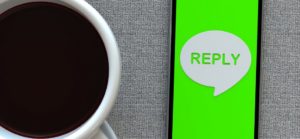 Not responding is more than rude--it destroys the relationships that are so necessary in business, especially for entrepreneurs. No one wants to waste their time on someone who never responds. It gives out two equally negative signals-- "you aren't worth my time" and "I'm unreliable."
I understand that people are overwhelmed these days with multiple forms of communication going on simultaneously. Most, like me, have their iPhone as another appendage just to keep up with it all. But the current social contract that no response equals a "no" just won't do. The investment we put into building networks requires some emotional intelligence and a dash of old-fashioned etiquette. To help, I've got a few tips on the Art of the Response.
Keep it simple. One of the best ways to deal with volume of invitations and be known for being responsive is to keep it short and sweet. I like to answer immediately with just a couple of words and open up the possibility to later conversation. "Sounds interesting! Can we discuss this on Friday?"
Like this Article ?  Share It !    You now can easily enjoy/follow/share Today our Award Winning Articles/Blogs with Now Over 2.5 Million Growing  Participates Worldwide in our various Social Media formats below:
FSC LinkedIn Network: (Over 16K+ Members & Growing !)  www.linkedin.com/in/fscnetwork
Facebook: (over 12K)   http://www.facebook.com/pages/First-Sun-Consulting-LLC-Outplacement-Services/213542315355343?sk=wall
Google+: (over 800K) https://plus.google.com/115673713231115398101/posts?hl=en
Twitter: Follow us @ firstsunllc
What Skill Sets do You have to be 'Sharpened' ?
Continue of article:
Figure out their medium of choice. Not everyone is responsive to email. Some people do better if you reach them via text and others prefer a message via Facebook or Twitter. And there are still a few people out there who like old fashioned snail mail. Sometimes a reply just requires the right delivery system.
Don't hedge your bets. Sometimes responses aren't forthcoming because the recipient can't decide. Beware of the minefield that is indecision and keep in mind that there are no wrong choices--only different outcomes. Making no choice puts you in the "unreliable" category. If you must, a polite "Can I get back to you on Tuesday when my schedule firms up?" will keep communication open. Then set a reminder for Tuesday.
Have a polite response in reserve. You get dozens of invitations and can't go to them all. There's nothing wrong with having a few well-chosen sentences that you can pop in when you don't have time for more. Something along the lines of "Thanks so much for thinking of me. Things are crazy right now and if I don't get back to you by deadline I will have to regretfully decline."
Give the invitee a gracious out. You can also help a potential guest decline with grace. If there's no reply after a second invitation consider including a sentence like "Knowing how busy you are, if I don't receive a reply by Tuesday I will consider this invitation declined. We hope to see you at our next event." Or if it's a business invitation, "If I don't hear from you I'll consider that this offer isn't a good fit."
For entrepreneurs, these simple steps will help maintain healthy business relationships. Capitalist enterprises are at their heart service oriented and by building in responsiveness you're already one step ahead. You never know what opportunities await when you receive an
The opinions expressed here by Inc.com columnists are their own, not those of Inc.com.
PUBLISHED ON: SEP 11, 2017
https://www.firstsun.com/wp-content/uploads/2017/09/No-reply.jpg
450
970
First Sun Team
https://www.firstsun.com/wp-content/uploads/2016/07/logo.jpg
First Sun Team
2017-09-11 20:46:28
2017-09-11 20:46:28
#Leadership : The Art of the Gracious Response in the Digital Age... Not Responding is More than Rude--it Destroys the Relationships that are So Necessary in Business. A Non-Response is Not an Answer, No Matter How Busy you Are.