I can't lie, I used to think having remote workers was a terrible idea. I couldn't see any path where working remotely created a better and more effective team. Having said that, the realities of commuting, employee demands, and cost have flipped the traditional work model on its head and has even forced some of my own team to work remote.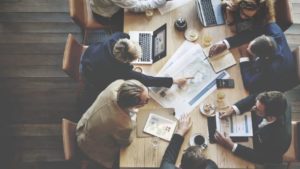 The latest research shows a 115 percent increase in telecommuting over the last 10 years and 43 percent of the U.S. workforce currently work remotely--meaning there are a lot of organizational leaders leading remote teams.
Leading a remote team might be the new norm, but that doesn't mean it's easy. I asked three leaders of remote teams a simple question. "Why is leading a remote team so difficult?" Adam Shuford sales manager at Abbott said, "because it's convenient to take the easy route and make being remote, 'distant.' But just because you're remote doesn't mean it can't be personal."
Like this Article ?  Share It !    You now can easily enjoy/follow/share Today our Award Winning Articles/Blogs with Now Over 2.5 Million Growing  Participates Worldwide in our various Social Media formats below:
FSC LinkedIn Network:   www.linkedin.com/in/fscnetwork
Facebook:  http://www.facebook.com/pages/First-Sun-Consulting-LLC-Outplacement-Services/213542315355343?sk=wall
Google+:  https://plus.google.com/115673713231115398101/posts?hl=en
Twitter: Follow us @ firstsunllc
Question: Want the 'the best/current articles/blogs on the web' on Job Search, Resume, Advancing/Changing your Career, or simply Managing People?
Answer: Simply go to our FSC Career Blog below & type(#career, #leadership, #life) in Blog Search:  https://www.firstsun.com/fsc-career-blog/
What Skill Sets do You have to be 'Sharpened' ?
Continue of article:
Andrew Sanctis a Sales VP at One Call Care Management said, "A major difficulty is the lack of visibility into your team's everyday performance. If you are only face-to-face once a quarter, it's easy to think, 'what are they doing when I am not there?'"
Armand Brown the Founder of Left Field Agency said, "Communication and for that matter miscommunication is an everyday challenge."
Being distant, struggling with communication and visibility are real-world challenges when it comes to leading a remote team. Not only did I need a solution for leading my own remote team but I needed a solution to teach our clients. After interviewing many leaders of remote teams on the 'Follow My Lead Podcast' and testing various strategies with my own remote team members, I have uncovered 3 simple questions you must be asking every week if you lead a remote team.
What have you done?

What are you working on?

Where do you need help?
Here are three powerful things that happen with a remote team when you use these three questions:
1. You create a clear meeting structure
Having a clear and concise game plan for meetings is critical to the success of any leader of a remote team. These three questions provide a consistent approach and structure that removes ambiguity and doesn't waste time.
2. You transfer ownership from leader to team member
Conventional thinking would have us believe that the leader should be responsible for the content and ideas that happen in team meetings. But when that thinking is turned upside down, remote leaders can make major productivity jumps. These three questions allow individuals to take ownership of their habits and behaviors.
3. You begin to add real value as a remote leader
People don't need to be managed, they need to be led. Instead of telling people where they need help, they are now telling you where they need help. This is leading, and it will create a proactive workforce that invites coaching by you to help improve their performance. John Maxwell famously said, "Leadership isn't about titles, positions or flowcharts. It is about one life influencing another." When you start to transfer ownership and help people solve problems, you will be influencing and impacting another person's life in a positive way.
The opinions expressed here by Inc.com columnists are their own, not those of Inc.com.
https://www.firstsun.com/wp-content/uploads/2017/07/meeting-top-view.jpg
350
622
First Sun Team
https://www.firstsun.com/wp-content/uploads/2016/07/logo.jpg
First Sun Team
2018-01-15 17:15:27
2018-01-15 17:15:27
#Leadership : 3 Questions the Best #Leaders Ask Their Remote Teams Every Week...If you're Not Asking These your #RemoteEmployees these Questions every #Meeting, You're in Trouble.