Some people believe that winning isn't everything, that effort is more important than walking away with a "W." To a degree, they're right. Winning may not be everything, but the will to win definitely is.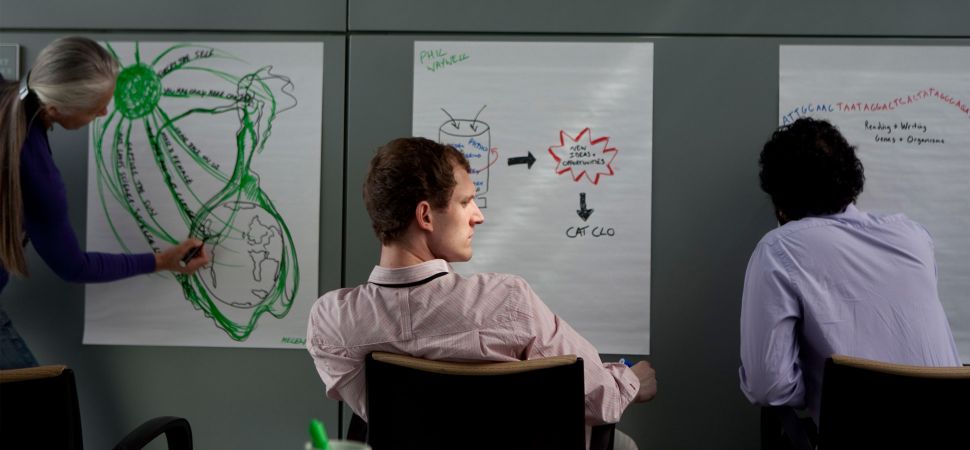 The will to win exceeds all else because it is defining. Focus, drive, steadfastness and all those other nouns and adjectives that describe "awesomeness" are only as good as the belief behind them; the conviction that turns want into do, desire into action or a wish into a goal.
However, there's a fine line between the will to win and winning at all costs. The former connotes purity of intent while the latter indicates the potential for subversion of character. Winning becomes everything because the journey defines you.
Of course, claiming a strong will to win and actually implementing it are two different things. The former is akin to a dream while the latter entails definable steps that turn that dream into reality. If you're wondering if you've got what it takes (or just want to confirm that you already do), here are 18 defining characteristics of people with a badass will to win:
1. They rewrite their internal monologues. A badass will to win knows how to push out the negative voices bantering back and forth inside one's head and instead create a voice that challenges such negativity. In so doing, they answer their newly formed questions and turn the self-limiting "Why can't I do [task]?" question into the exploratory "How can I do [task]?"
First Sun Consulting, LLC- Outplacement/Executive Coaching Services,  is proud to provide one of our 'FSC Career Blog' article below.  Over 300 current articles like these are on our website in our FSC Career Blog section with new management trends, employment updates along with career branding techniques  .   Also note,we are excited to announce thatFSC Career Blog was voted the 'most viewed' on  LinkedIn groups in 2013. 
Simply connect @  http://www.linkedin.com/in/frankfsc  , then click, 'Add Frank Link'  to your Network.

OR
Connect with us on Twitter @   firstsunllc
That simple.
Continue with article:
2. They have a healthy disregard for authority. Employees with a strong will to win consider the rulebook as more of a guide while still working within the confines of what's "right." In other words, badass employees know how to solve problems creatively while not breaking the rules.
3. They don't wallow in regret. Badass employees feel good about their performance because they know they gave it their all. If a big fat "L" (for "Loser") is the takeaway for the day, they will learn, adapt and move on.
4. They display grit. In my BUD/S (Basic Underwater Demolition/SEAL Training) class we started with 174 students who wanted to be Navy SEALs, but only 32 of us truly desired it. Why? Because the latter group chose to enact the defining quality that bridges the gap between want and wish, purpose and passion. What I'm talking about is grit.
Grit was what separated the 32 volunteers who completed the rigorous six-month selection process. Sure, at the onset everybody wanted to be a SEAL, it was their passion to do so and their purpose for volunteering. But, they didn't unlock the grit that connects purpose with passion and instead succumbed to the immediacy of security and stability rather than deal with the temporary discomfort of chaos. Grit is the interlock between passion and purpose keeps one's desires aimed in the intended direction.
5. Badass employees redefine failure. They see failure as a temporary state, a means towards success because every lesson learned provides a clue as to how to achieve their goal.
6. They see opportunity in chaos. People with an unwavering will to win aren't afraid to swim upstream, to go against the routine of social norms and ask, "Why not?" in order to disrupt the network and introduce a completely new product or idea.
7. They believe superior performance is systemic. There is no single part of human performance—physical, mental or emotional—more important than another. Each capacity is inextricably linked with one another. However, the aforementioned components of performance aren't scared to rise up individually to fill the void(s) if another is lacking. If, for instance, motivation to read all those new company reports is on the lower end of the day (mental), badass employees know how to attune their physical or emotional interests back to the purpose at hand. They may go for a run to induce endorphins that promote cognition (physical solution), or redefine how they read so as to induce a stronger interest (emotional solution).
Badass employees don't reach peak physical performance with a reactive (vs. proactive) mindset. They are ready to perform only after they put in the hours to hone their physical prowess—which comes from a disciplined mindset. Superior performance is systemic.
8. They capitalize on momentum. Winners recognize opportunity and they exploit it for the purpose it serves: to continue doing because doing entails learning.
9. They reflect upon past performance. In the SEAL Teams, we conducted after action reviews (AARs) after every mission for a number of reasons:
To improve team learning
To demonstrate that each operator is integral to the mission
To fine tune individual and team performance
If you don't take the time to learn from history then chances are that you will repeat history—or even worse, be history.
10. They're rational. Badass employees don't base their performance on factors out of their control such as the weather, freakish accidents or other peoples' opinions. If they can't change or influence the situation then the only option left is to accept it.
11. They recognize the "Murphy Factor." For lack of a better word, "stuff" happens. Get over it. Badass employees are experts at recognizing when to drill down into further details and when to let things be.
12. Reflect on how to improve. Perpetual learning is an integral part of the winner's daily routine. Badass employees take responsibility for their actions because their actions are byproducts of their choices.
13. They learn, learn, learn! People with a strong will to win see learning as an opportunity to broaden their own potential for greatness. They don't question whether or not social media, for example, is something they personally enjoy but rather seek to understand how they can adopt the best practices of social media and maximize its utility. In other words, they see learning as a lifelong journey rather than an end-state.
14. They're not afraid to explore "newness." A winning mindset sees new experiences as opportunities to not only learn but also prove that one's efforts in training and preparation have been worthwhile. In other words, badass employees know that extra-ordinary is oftentimes a byproduct ofextra performance—and that it takes a willingness to try.
15. They're humble. More than anything, winners display humility because humility, above all else, enables the aforementioned elements to occur. Humility affords the mental space to try new things. Badass employees knowthat there's always more to learn because they don't know everything; they seek others out to share and learn from their knowledge. Much like leadership, winning is contagious, and leaders recognize that people are the secret sauce towinning more.
16. They exercise restraint. Knowing how to direct one's focus, when to do so, and where to aim it are proactive choices a badass employee accurately makes because she has a thorough understanding of the environment in which she works.
7. They value the system rather than the component parts. Badass employees know that gratification comes when there is shared success across the board, so they're not out to promote themselves but instead work towards job completion as a byproduct of teamwork. In other words, they delay their emotional want and instead focus on the rational need.
18. They don't believe in "have to's." Since many things in life are a product of choice, badass employees replace their "have to's" with "want to's" because they're aware that want reflects personal choice, whereas have to indicates an external force coercing them into action—and badasses don't believe in that.
At the end of the day, yes, effort is undoubtedly important. But don't let it replace one's will to win. If you show me someone who doesn't want to win then I'll show you someone who never has.
Forbes.com  |  August 11, 2014  |  Jeff Boss
http://www.forbes.com/sites/jeffboss/2014/08/11/18-characteristics-of-a-badass-employee/
https://www.firstsun.com/wp-content/uploads/2016/07/logo.jpg
0
0
First Sun Team
https://www.firstsun.com/wp-content/uploads/2016/07/logo.jpg
First Sun Team
2014-08-11 11:58:17
2014-08-11 11:58:17
Leadership: 18 Characteristics Of A 'Badass' Employee..Take a few minutes & Forward this article to 'each' of your Team Members.