"The great gift of conversation lies less in displaying it ourselves than in drawing it out of others. He who leaves your company pleased with himself and his own cleverness is perfectly well pleased with you." -- Jean de La Bruyère
If 17th century French philosopher Jean de La Bruyère attended a networking event in 2017, surely he would shine.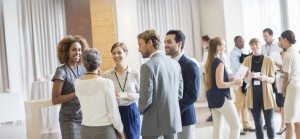 In this digital age of text messages and emails, meaningful face-to-face conversation is becoming quite the rarity. Still, these conversations are now as crucial as ever, as they can help you create a lasting connection that may help your career or even your life in general.
Here are 5 surefire ways to improve your conversation skills:
1. Don't wait
Watch out for this mistake, which kills conversations before they have a chance to begin--don't wait to be approached! Always make the first move, as the other person may be waiting for you to approach as well. A simple comment on your surrounding environment or an observation you make will let people know you are receptive to starting a conversation, and any response they give will show they are receptive too.
Like this Article ?  Share It !    You now can easily enjoy/follow/share Today our Award Winning Articles/Blogs with Now Over 2.5 Million Growing  Participates Worldwide in our various Social Media formats below:
FSC LinkedIn Network: (Over 15K+ Members & Growing !)   www.linkedin.com/in/frankfsc/en
Facebook: (over 12K)   http://www.facebook.com/pages/First-Sun-Consulting-LLC-Outplacement-Services/213542315355343?sk=wall
Google+: (over 800K) https://plus.google.com/115673713231115398101/posts?hl=en
Twitter: Follow us @ firstsunllc
What Skill Sets do You have to be 'Sharpened' ?
Continue of article:
2. Be present
Georgia Public Broadcasting host Celeste Headlee, in her 2015 TED Talk, "10 Ways to Have a Better Conversation," (see video below) insists you avoid multi-tasking. "Be present," she suggests. "Be in that moment." Giving your full attention to a conversation you have with someone else shows the other person that you respect their time, and this will encourage mutual engagement as well.
3. Share the stage
Improving the quality of discussions can lead to more meaningful moments and connections. Two simple techniques include leaving room for the other person to respond as well as requesting their opinion. Once you state your own thoughts on a topic, directly ask how they view a situation. Bonus points if you later paraphrase the other person's view and then ask a clarifying question--it shows you were listening!
4. Be genuinely interested in the other person
By showing a genuine interest in what someone is doing or in something they value in his or her life, the person in question will become more interested in you. Ask questions and be authentic--the conversation will thus flow naturally and you will leave a more lasting impression.
5. Set the stage for a future conversation
Be sure to exchange contact information and actually follow-up--it is with this kind of action that new relationships develop and old relationships can grow and thrive.
Use these tips and you will find conversations in any setting will become more comfortable and purposeful--all it takes is a bit of practice!
PUBLISHED ON: AUG 9, 2017
Inc.com |
https://www.firstsun.com/wp-content/uploads/2015/10/Networking-Diverse-Group.jpg
450
970
First Sun Team
https://www.firstsun.com/wp-content/uploads/2016/07/logo.jpg
First Sun Team
2017-08-09 11:48:55
2017-08-09 11:49:34
Your #Career : Become a Networking Master- 5 Surefire Ways to Sharpen Your Conversation....Skills It just takes a little practice to become an effective networker.