So you've prepared for the phone interview, a video chat, the one-on-one interview, and the salary conversation with HR. But, if you've forgotten to plan for a possible panel interview, you've missed a step.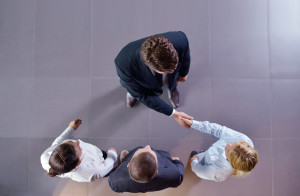 Panel interviews, for those who haven't encountered them before, involve a candidate sitting across from three or more hiring managers and meeting with them all at once in a 45- to 60-minute interview–cue the panic sweats and visions of a firing squad.
Anxiety is normal, but the job interview jitters can be mitigated by anticipating and preparing for these panel interviews. After all, many companies are including these types of meetings in their hiring processes due to time constraints and multiple stakeholders.
As you account for this new step in your job search, there is plenty that you'll need to do to bring your A game. However, there are also nine things you should never do in a panel interview–here we break them down.
Do not . . .
1. ONLY ADDRESS THE MOST SENIOR PERSON IN THE ROOM
Everyone in a panel interview may have a vote on whether you join the team, so do not make the mistake of responding only to the senior-level team members. Give everyone your attention, look each person in the eye when responding, and give their feedback equal weight.
---
Related: How You Should Answer The 10 Most Common Interview Questions 
---
2. FORGET INTERVIEWERS' NAMES AND ROLES
Before any interview, learn the names and responsibilities of every person who will be in the room. Part of your interview prepprocess is to research each person and get familiar with their names, titles, and roles. And in the event that another interviewer is sprung on you last minute, try your hardest to remember their name and address them directly.
Like this Article?  Share It !    You now can easily enjoy/follow/share Today our Award Winning Articles/Blogs with Now Over 2.5 Million Growing  Participates Worldwide in our various Social Media formats below:
FSC LinkedIn Network: (Over 16K+ Members & Growing!) www.linkedin.com/in/fscnetwork
Facebook: (over 12K)   http://www.facebook.com/pages/First-Sun-Consulting-LLC-Outplacement-Services/213542315355343?sk=wall
Google+: (over 800K) https://plus.google.com/115673713231115398101/posts?hl=en
Twitter: Follow us @ firstsunllc
What Skill Sets do You have to be 'Sharpened' ?
Continue of article:
3. GET FLUSTERED AND GIVE UP
Interview questions can be hard, especially the oddball ones. However, that's no excuse to lose your cool–deep breaths and thoughtful responses are always best. And if you don't know an answer, a great reply is, "I'm not confident in my answer to that one, but I can follow up with you after this interview."
4. GET DEFENSIVE
It's easy to get defensive when interviewers ask about a gap in your resume, recent unemployment, or a touchy termination. However, in situations like these, it's best to bite your tongue. You've prepared for these questions, remember? Simply deliver your anecdotal response confidently and whatever you do, don't get defensive. No one wants to hire a hothead.
5. IGNORE YOUR BODY LANGUAGE
"You have to stand up straight. You have to smile, look at the person's face," says body language expert Dr. Lillian Glass. But more importantly, she says, "You have to be interested, not [just] interesting. Be concerned about what you're doing and about what you can do for the company, not what the company can do for you. That's where people really get in trouble, especially millennials. Being too self-absorbed in the workplace can harm your chances for success. You have to talk about what you provide and contribute to the company, and your body language [should reinforce] that."
FastCompany.com | October 6, 2017 |  BY AMY ELISA JACKSON—GLASSDOOR  3 MINUTE READ
https://www.firstsun.com/wp-content/uploads/2016/04/free-meeting-top-veiw2.jpg
4250
6500
First Sun Team
https://www.firstsun.com/wp-content/uploads/2016/07/logo.jpg
First Sun Team
2017-10-07 15:21:21
2017-10-07 15:21:32
Your #Career : Got A Panel Job Interview Coming Up? Here's What You Should Avoid...Clear the Panel-Interview Anxieties away by Knowing what you Shouldn't Do in Advance.