While it can be difficult to become a great leader and to achieve great things, practicing great leadership is actually quite easy. There is a tendency to overcomplicate or overthink what leadership is, but actually, leadership can be very simple.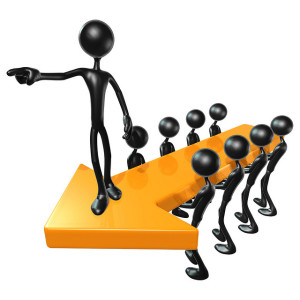 Leadership is a lot more simple than we think. Don't Over Complicate it.
I have worked with teams all over the world, from dozens of cultures, and from different generations, Baby Boomers to Millennials, and I have found that if you provide these four simple things your team will appreciate you, follow you, and achieve great results.
1. Clear direction
This is the leader's number one job. If you don't do anything else, you absolutely must give clear direction to your team. Let them know what the goals and objectives are. Too often there is a lack of clarity, which can lead to confusion, misalignment, frustration, and disengagement. Sometimes, clear direction is all a team needs; General Patton said, "Tell them what to do and they will surprise you with their ingenuity."
2. Support
Your team does the lion's share of the work, and as their leader, it's your job to provide them with everything they need to be successful. When you set a team up to be successful, most of them will grab the opportunity with both hands and become successful. Leadership is about serving your team, not about being served by them. This doesn't mean doing the job for them; it means providing the right environment, and then being there to help, if needed.
Like this Article ?  Share It !    You now can easily enjoy/follow/share Today our Award Winning Articles/Blogs with Now Over 2.5 Million Growing  Participates Worldwide in our various Social Media formats below:
FSC LinkedIn Network: (Over 15K+ Members & Growing !)   www.linkedin.com/in/frankfsc/en
Facebook: (over 12K)   http://www.facebook.com/pages/First-Sun-Consulting-LLC-Outplacement-Services/213542315355343?sk=wall
Google+: (over 800K) https://plus.google.com/115673713231115398101/posts?hl=en
Twitter: Follow us @ firstsunllc
What Skill Sets do You have to be 'Sharpened' ?
Continue of article:
3. Space
Give the team the space to get on with the work. Provide support, but don't micromanage them. Micromanagement is not only frustrating and demotivating, but it can also lead to mistakes, as it can put your team under unnecessary stress. Micromanagement is not good for your team, and it's not good for you, either, because no one wants to work for a micromanager. If that becomes your reputation, then the best staff will look to work elsewhere, and it will give you both recruitment and retention issues. It's OK to check up on the team, to see how they are doing and what you can do to help, but it has to be within reason.
4. Praise
Positive feedback, in my experience, is key to building a great team that achieves amazing things. I am always surprised by how resistant many managers and leaders are to giving praise, You need to create a culture of recognition, and it starts by recognizing effort. No one is successful immediately, so you should look to give people positive feedback for trying, for being willing to give things a go. What gets recognized gets repeated, and we want people to repeat the effort, because that is what it is going to lead them to success. If you wait for your team to achieve success before you praise them, then you could be waiting a long time.
If you want to become a better leader, or you want your team to achieve better results, providing these four simple ingredients will go a long way toward motivating and inspiring your team and boosting their efforts.
Inc.com |
https://www.firstsun.com/wp-content/uploads/2015/05/leadership-role-pic.jpg
640
640
First Sun Team
https://www.firstsun.com/wp-content/uploads/2016/07/logo.jpg
First Sun Team
2017-05-19 16:26:45
2017-05-19 16:26:45
#Leadership : 4 Simple Things Every Team Wants From Their Leader...Leadership is Simple. Don't Over Complicate It.